We plan, cook, serve and clean up.
Let us plan your dinner party while you sit back and enjoy your dinner with friends.  Decide how you would like your meals presented.   We offer three course meals served family style, plated 3-5 course upscale dinners, or be adventurous with an elegant 5 or 7 course Chef's Tasting menu.  All meals are customized to your flavor and preferences. We come to your home with all the equipment needed to prepare and cook your meal and when we leave your kitchen area will be as clean as we found it.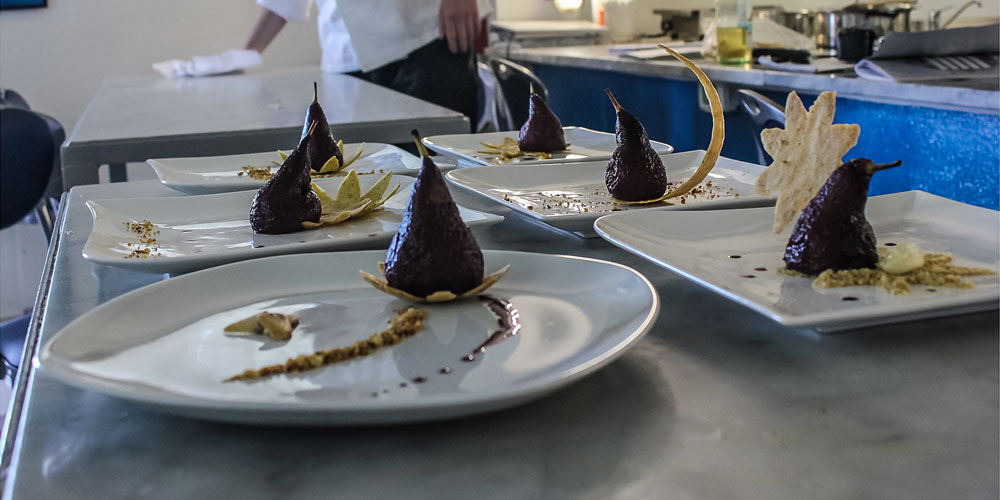 ---
Dinner parties from 5-18 people
$65 per person, plus grocery cost.
Parties of 7 or more require an additional charge of $175 for a server.
Parties of more than 18 will be quoted per consultation with the Chef.
Romantic Dinner for Two:
$300 all Inclusive
Intimate Dinner for Four:
$350 all Inclusive

---
Sample Fine Dining Dinners
'Hor d' Oeuvres
Tomato Basil Mozzarella Bruschetta
Roasted Prosciutto & Nectarine
Smoked Salmon Rillettes/Tomato
First Course
Calamari &Shrimp Ceviche
Octopus Carpaccio
Beef/Lamb Tartare
Second Course
Panzanella Salad with Heirloom Tomatoes, Shallots, Basil, and Fresh Mozzarella
Kale Salad w/almonds, peppers, shallots, Lemon Dijon Yogurt Dressing
Tomato, Cucumber and Watermelon Salad, Feta, and Balsamic Vinaigrette
Third Course
Stuffed Cappelletti in Chicken Consommé'
Sausage-Filled Ravioli with Fresh Tomato Marinara Sauce
Crispy Ricotta stuffed Ravioli in Sage Brown Butter
Fourth Course
Seared Scallops /Asparagus and Roasted Root Vegetables
Crusted Flounder w/ Squash Puree and Cauliflower
Seared Cod or Halibut w/ Salt Roasted Beets Roasted Fingerling Potatoes
Fifth Course
Seared Tenderloin/ Scallops with Mushroom Demi, Roasted Fingerling Potatoes and Asparagus
Seared Tuna / Mashed Parmesan Potatoes and Roasted Broccoli
Duck Breast, Roasted Potatoes and Cauliflower
Sixth Course
Various Cheese selections w/ Seasonal Jams, Nuts and Flatbreads

Dessert Course
Coffee and Milk Kardinal
Tiramisu
Neapolitan Mousse Stack