Standard service consists of an entree serving four people with appropriate sides. However all services are customizable to your needs.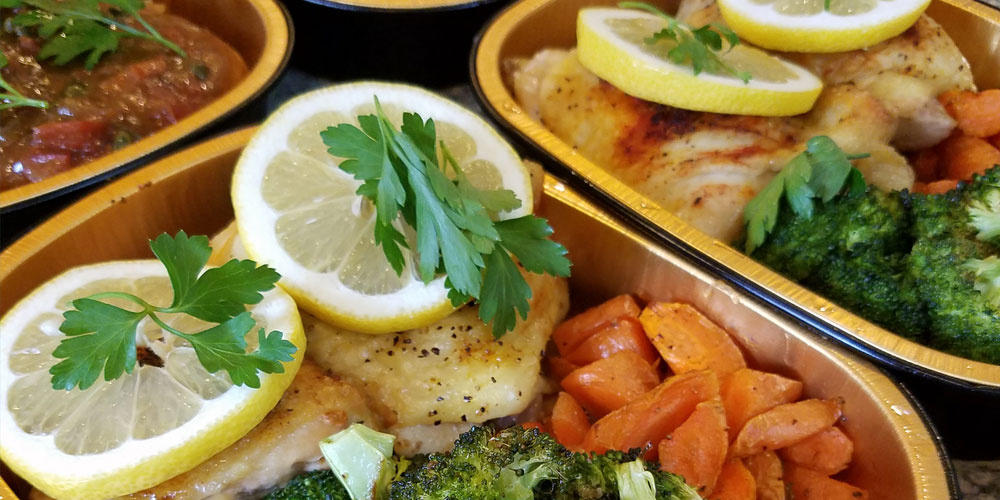 Meals include fresh ready-to-serve meals along with ready-to-freeze meals for your convenience.
Come home to healthy delicious meals, prepared in your home, for your family to enjoy in just a matter of minutes. Our Standard Prepared Meal program consists of meals, completed to your specifications and palate, which can be either refrigerated or frozen to be re-heated in the next 1 to 2 weeks.
The most frequently ordered service is the 4 x 4.  This consists of 4 different entrees of 4 servings each for a total of 16 meals.  Many find themselves out of town on weekends, having at least one late lunch or dinner at the office, or becoming involved with other out of home events.  Assuming you eat at home only 4 nights a week, this plan would provide a family of 4 with meals for a week or a couple with approximately two weeks of dinners.  A popular choice for those who prefer weekly service is the 4 x 2.  This provides 8 meals (4 different entrees of 2 servings each) perfect for a couple.
Other plan combinations are listed below.  Larger plans accommodate families.  If these plans do not describe your dining pattern(s) or meet your meal needs, they can easily be adjusted.
Plans and Fees
| | | | | | | | |
| --- | --- | --- | --- | --- | --- | --- | --- |
| | Number of Individual Entreés | | Number of Servings per Entrée | | Number of Meals | | Cost |
| | 4 | x | 4 | = | 16 | | $225.00 |
| | 5 | x | 4 | = | 20 | | $250.00 |
| | 6 | x | 4 | = | 24 | | $275.00 |
| | 4 | x | 2 | = | 8 | | $175.00 |
| | 4 | x | 6 | = | 24 | | $275.00 |
Fees listed are for standard food items and preparation methods. If you follow a special diet, i.e. organic, paleo, low sodium, gluten free, etc. prices may vary based on your specific needs. This difference is most often seen in the cost of your food, especially if it involves extra time/travel to obtain special items.
---
Additional Meals and Costs
Additional meals are priced at $25 each. Additional side dishes and desserts available for a nominal fee. The average costs for groceries range from $75 to $175, depending on meal choices. The costs will be communicated with you during your consultation.
Payment for services:
Cash and checks are accepted for payment of Personal Chef Services and are due on the first scheduled cook day. A $100 deposit is due at time of consultation.


---
What is Included with Meals:
Complimentary consultation.  Your chef will meet with you to assess dietary preferences, food allergies/intolerances, general food likes/dislikes.
Grocery shopping.  All ingredients will be purchased fresh for your meals.
Food preparation and packaging.  Meals will be prepared in your home and packaged with specific re-heating instructions according to food safety standards.
Equipment. You provide a clean work area for you chef including stove and oven. Pots & pans, utensils, knives, etc. will provided.
Pantry.  Chefs maintain a portable pantry with high quality spices, oils, flours, vinegars and condiments.
Clean kitchen.  Your kitchen will be left clean as we find it.  Cleaning supplies are provided. Imagine coming home to the smell of delicious food without having lifted a finger.
Less stress, more free time. The time normally spent deciding what to make for dinner, grocery shopping, prepping, and cooking can now be yours to enjoy!
What is Provided, but Not Included in the Fee Schedule:
Groceries.  Food bought specifically for your meals will be reimbursed at cost giving you the freedom to choose exactly what ingredients go into your meals.
Storage containers.  The type of storage containers required will be assessed at the initial consultation.  This will be a one-time fee unless replacement containers are needed in the future.
Special diets under medical professional supervision. If a consultation with a nutritionist or medical professional is required, additional fees may apply. This will be discussed at your initial consultation.